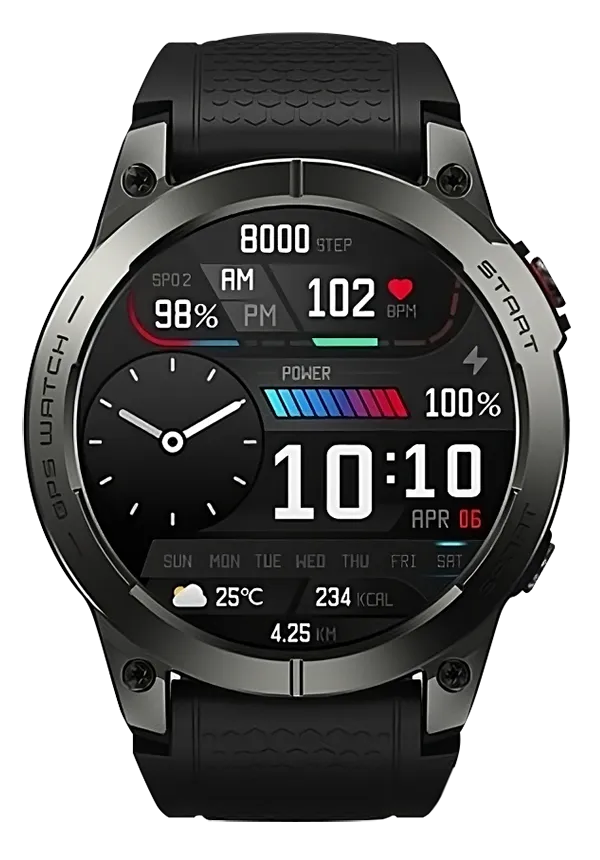 DISPLAY
ULTRA HD AMOLED DISPLAY
Experience brilliance on your wrist with the Zeblaze Stratos 3. Its 1.43" Ultra HD AMOLED display, packing 466*466 pixels and a brightness of up to 1000 nits, offers crystal clear visuals. The watch promises durability and convenience, supported by an Always-On feature and protected by Corning® Gorilla® Glass. With over 150+ watch faces to choose from, personalize your smartwatch to match your style. Discover a display that's not just smart but stunning.
4-SATELLITE / 3-MODES GPS
STRONG & PRECISE BUILT-IN GPS
Experience seamless navigation with the Zeblaze Stratos 3. Its high-performance GPS, integrated with GLONASS, GALILEO, and BEIDOU, provides pinpoint accuracy. Enhanced by Assisted GPS, it ensures fast fix times for efficient location tracking, making your journey streamlined, swift, and precise. This smartwatch is a perfect companion for those who never stop exploring.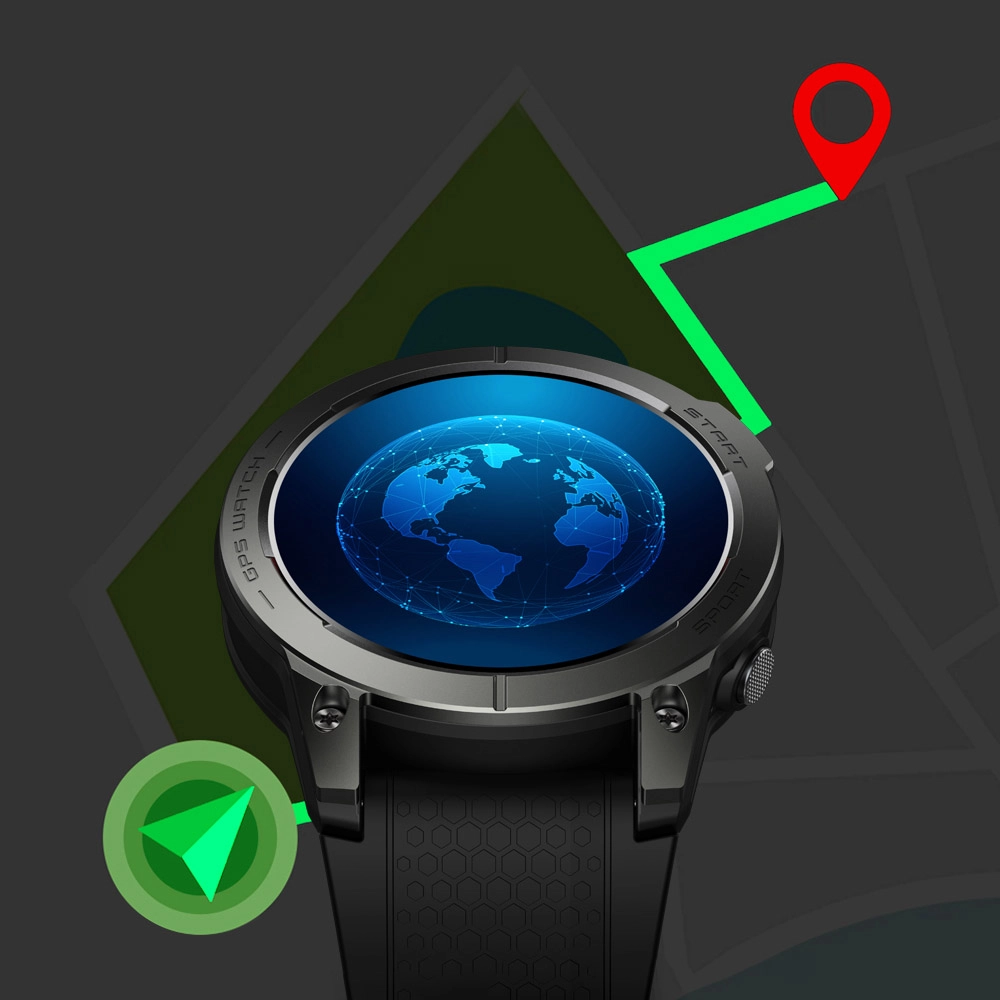 FITNESS
ADVANCED FITNESS SUPPORT
Embrace an active lifestyle with the Zeblaze Stratos 3, offering over 100 professional workout modes that adapt to your fitness journey. Whether walking, running, cycling, or diving into various indoor and outdoor sports, the Zeblaze Stratos 3 smartly recognizes your activity for precise tracking. It provides detailed insights like GPS-based distance, pace, heart rate ranges, and calories burned. Its IP68 water resistance makes it a robust partner for workouts. This smartwatch is designed to match your pace and passion, from traditional exercises to unique activities like archery or kite flying. Fitness has never been this personalized.
HEALTH
24/7 EASY HEALTH MANAGEMENT
Elevate your wellness journey with the Zeblaze Stratos 3. This smartwatch delivers continuous 24H heart rate, SpO2, and stress monitoring, allowing you to understand your health in real time. Its intuitive activity tracking features an activity record, step counter, and auto goal setting based on your activity level. For an added dimension of care, it even offers in-depth sleep quality monitoring and supportive features like breathing exercises and menstrual cycle tracking. With the Zeblaze Stratos 3, wellness isn't a goal; it's a lifestyle.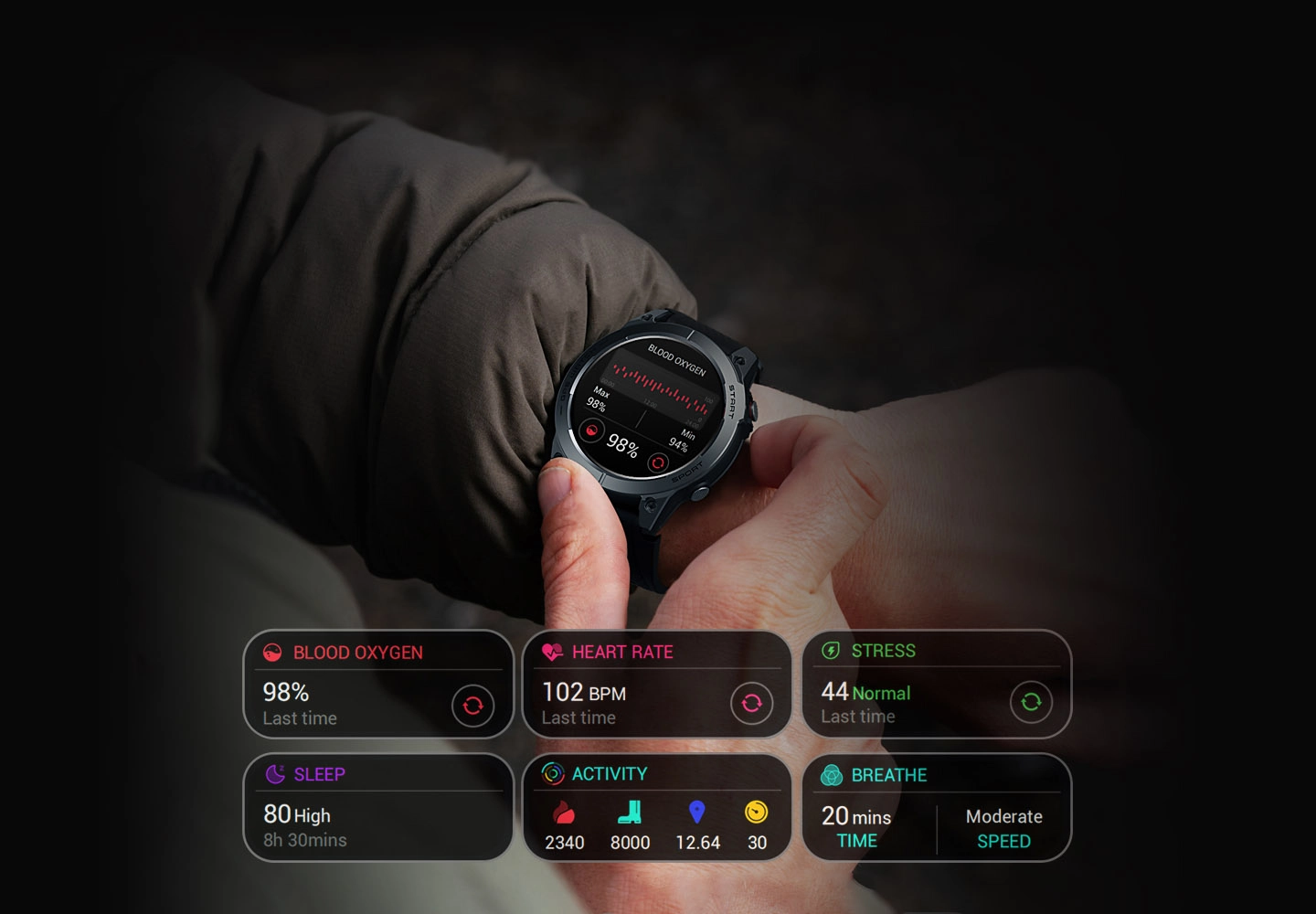 STAY CONNECTED
THE ULTIMATE PERSONAL ASSISTANT
Embrace smarter living with the Zeblaze Stratos 3. This smartwatch keeps you connected with Hi-Fi quality Bluetooth phone calls and instant notifications from texts, emails, and apps. Its smartphone assistance lets you control your music and camera, while features like Find My Phone add extra convenience. GPS time sync, stopwatch, and timer functions are included for punctuality. This smartwatch even supports your daily routine with features like weather sync, sedentary alerts, and reminders for hydration or medication.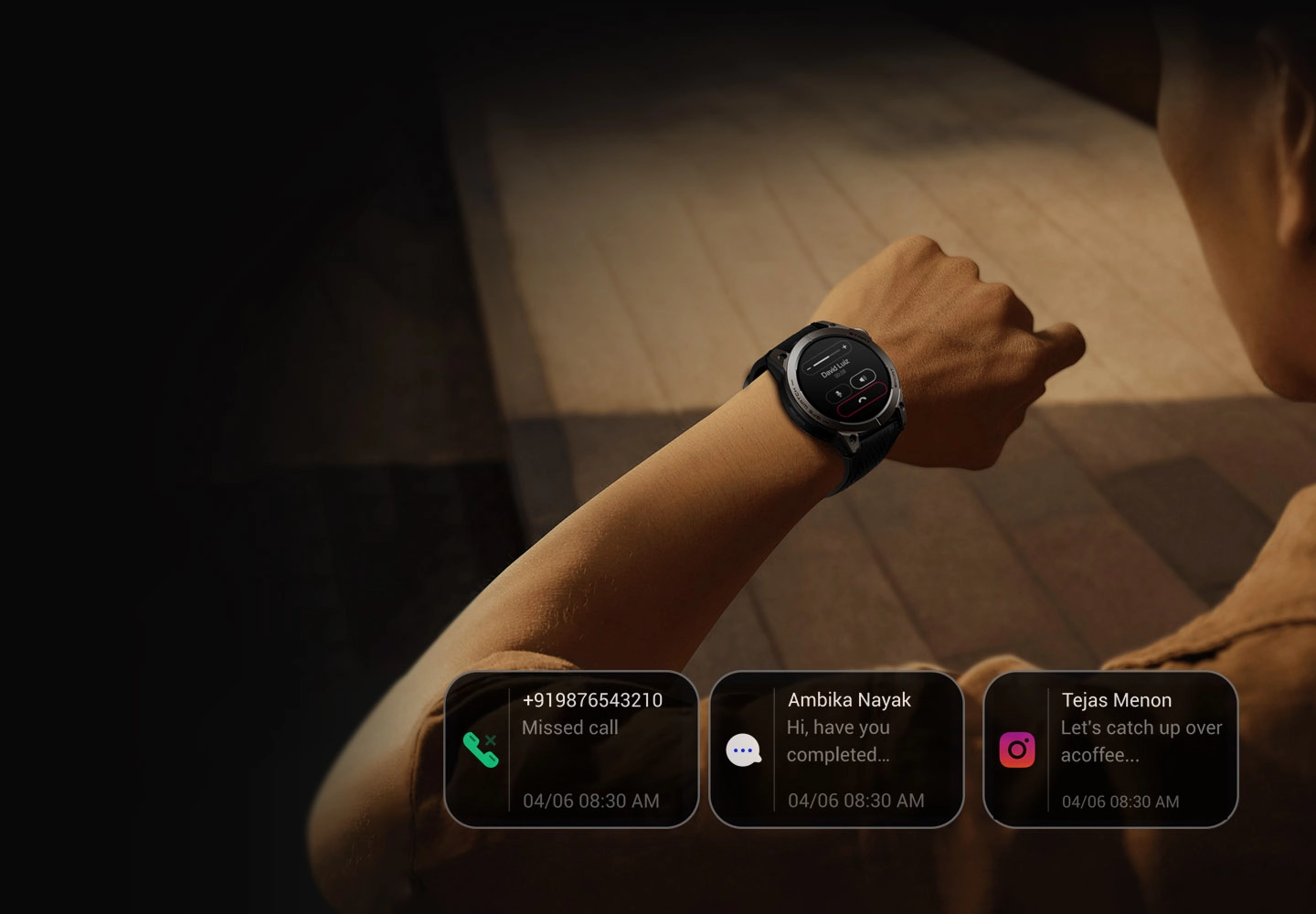 BATTERY
POWER THAT GOES THE DISTANCE
The Zeblaze Stratos 3 is powered by a robust 400mAh Li-Pol battery, offering an impressive standby time of up to 45 days in power-saving mode. When in training mode, you can keep it active for up to 20 days, and with complete GPS and heart rate tracking, it sustains up to 84 hours. Even for voice calls, it provides a remarkable 545 minutes. Thanks to the convenient magnetic charging method, the watch refueling takes approximately 1.5 hours. Never miss a moment with the enduring Zeblaze Stratos 3 battery.
FEATURES
UTILITY AT YOUR FINGERTIPS
The Zeblaze Stratos 3 is more than just a smartwatch; it's a tool for everyday life. With practical features that enhance productivity, connectivity, and well-being, it truly puts utility at your fingertips. Whether it's seamless notifications, health tracking, personalized workout modes, or GPS services, every feature is designed to streamline your routine and elevate your lifestyle.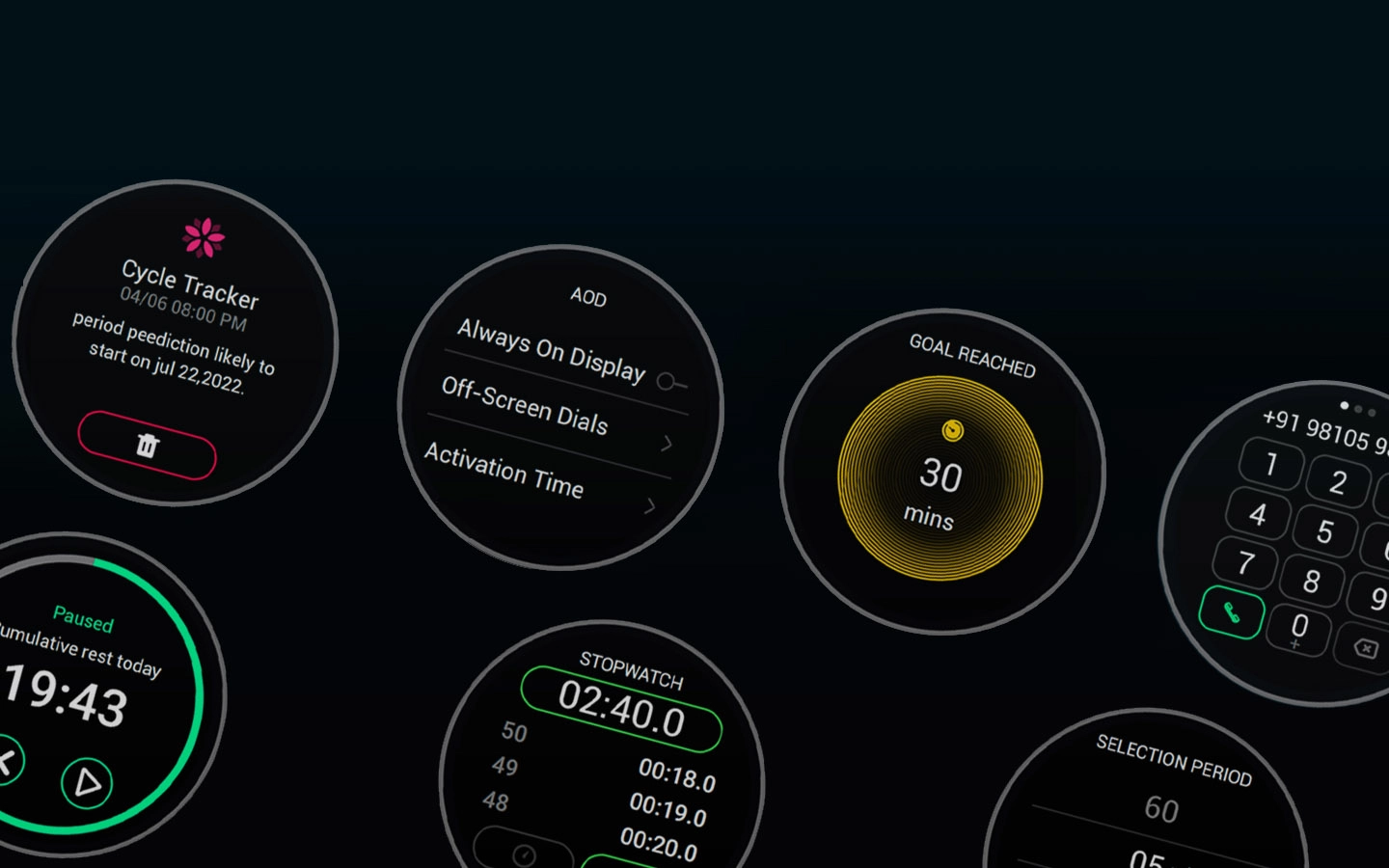 CONNECT
CHECK ALL YOUR EFFORTS
The Zeblaze Stratos 3 bridges the gap between your wrist and your smartphone. Compatible with Android 4.4 or iOS 8.2 and above, it seamlessly syncs your workout data to Apple Health and Strava, making reviewing and sharing your activity easier than ever. With its BLE 5.3 connection, the Zeblaze Stratos 3 guarantees efficient and reliable communication with your device. Stay connected, stay active.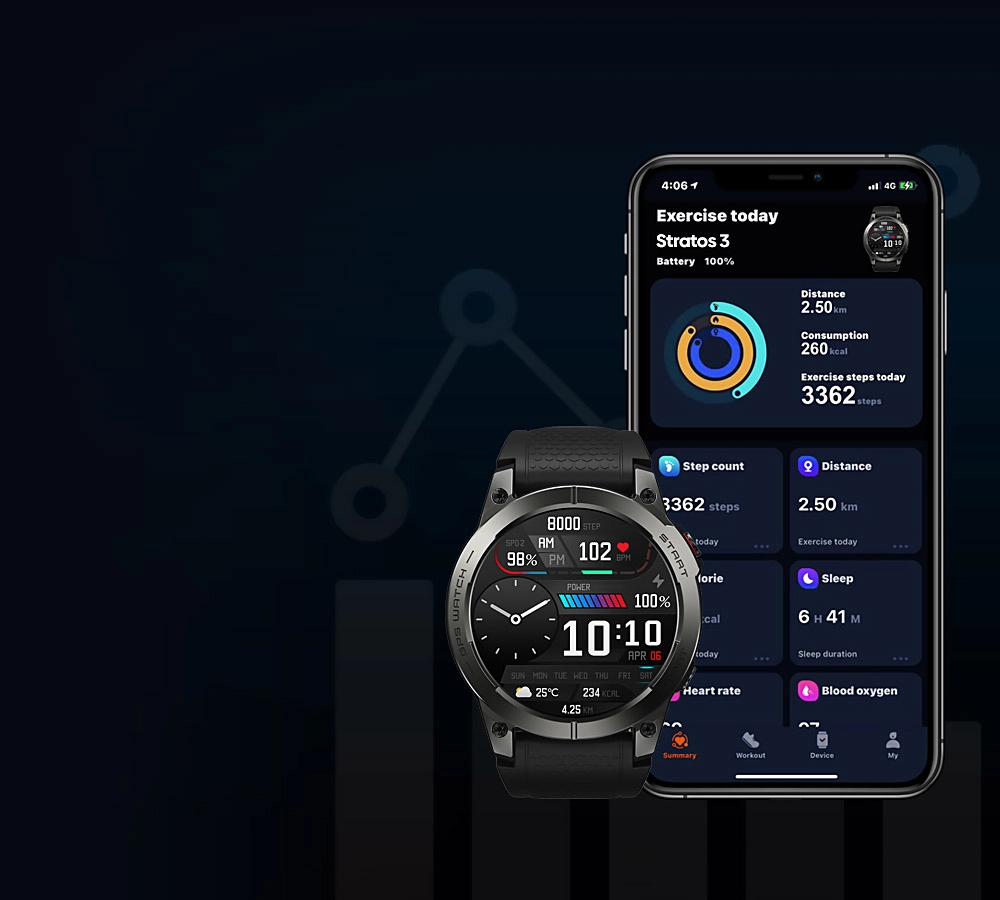 PACKAGE
IN THE BOX
Package *1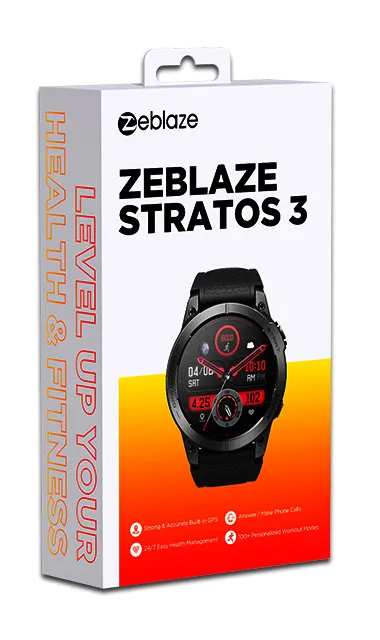 Zeblaze Stratos 3 Smart Watch *1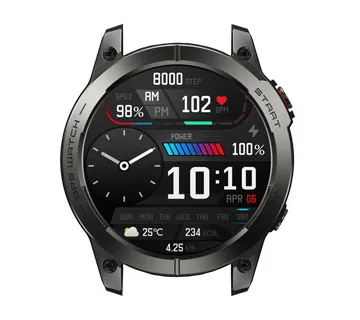 Liquid Silicone Strap *1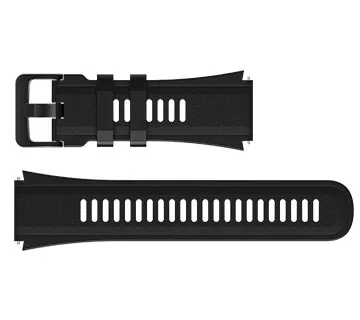 Instruction Manual *1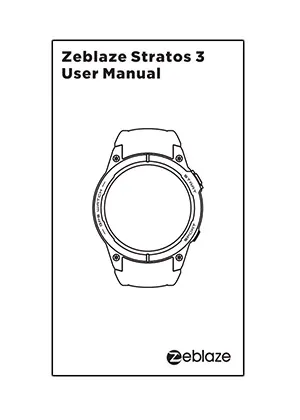 Magnetic Charging Base *1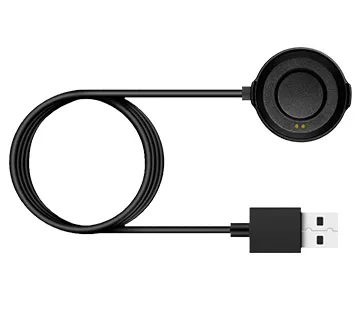 GALLERY
PHOTO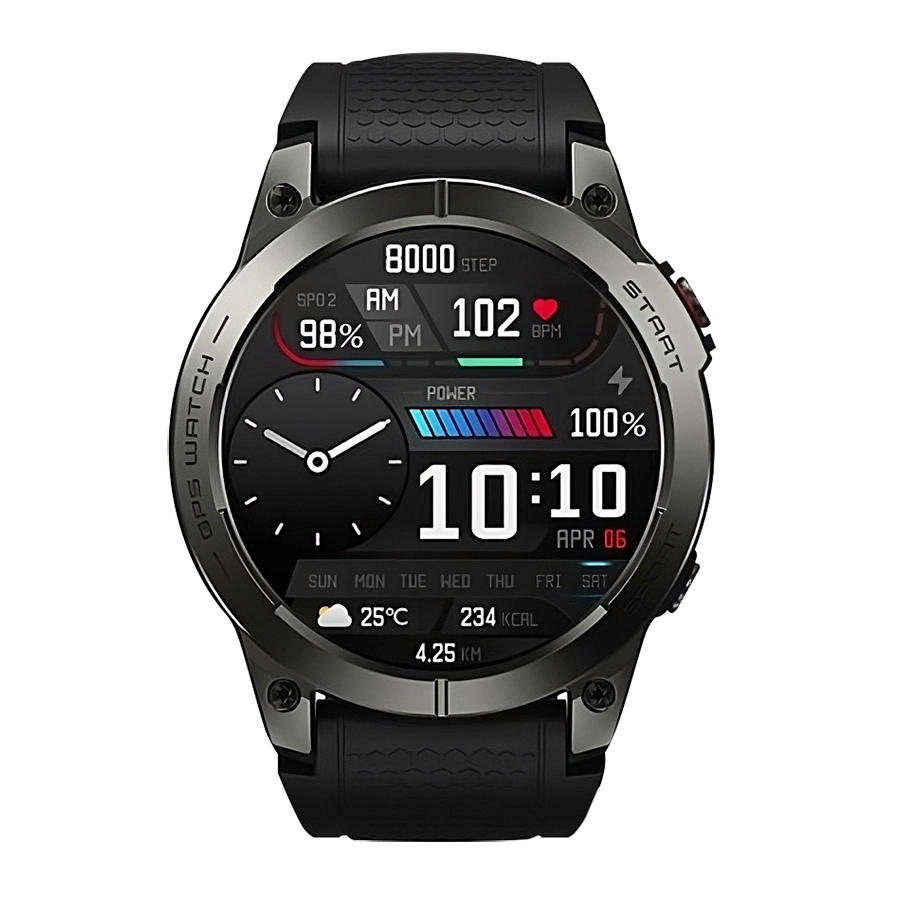 Slide 1 of 2.
PROMO
VIDEO
PARAMETERS
SPECIFICATION
Display
Resolution
466*466 pixels
PPI
391 PPI, Up to 1000 nit Brightness
Always-on Displays
Support
Glass Material
Corning® Gorilla® Glass
Design
Color
Abyss Black, Electric Orange
Dimensions
46.3 x 46.3 x 14.8 mm
Weight
60g with a wristband, 37g without a wristband
Body Material
Zinc Metal Bezel+Drilling Carbon Coating
Sensors
GPS Positioning
Integrated GPS / GLONASS / GALILEO / BEIDOU, Assisted GPS for fast fix times
Movement
Gravity sensor, Proximity sensor, Accelerometer
Health
Wrist Heart Rate Monitor, Pulse Ox Blood Oxygen Saturation Monitor
Battery
Battery Capacity
400 mAh Li-Pol battery
Standby time in power-save modes
Up to 45 days
Training time in power-save modes
Up to 20 days
Training time with full GPS and HR tracking enabled
Up to 84 hours
Continuous Voice Calling
Up to 545 mins
Charging Method
Magnetic Charging
Charging Time
Approx. 1.5 hours
Strap
Materials
Durable and comfortable silicone strap, Quick release
Measurements
Min&Max Wrist Dimensions
Health Features
Activity Tracking
Activity Record, Step Counter, Standing, Move Bar (Displays on device after a period of inactivity; Walk for a couple of minutes to reset it), Auto Goal (Learns your activity level and assigns a daily step goal), Calories Burned, Real-time Pace & Distance
24H Monitoring
Wrist-based Heart Rate (Abnormal Heart Rate Alerts), Step, Standing, Calories Burned, Real-time DistanceManual Measurement: Wrist-based Heart Rate, SpO2(Blood Oxygen) Level Measurement, Stress Level
Sleep Quality Monitoring
Sleep stages (including REM), Sleep schedule, Sleep Score, and Insights
Breathing Exercise
Support
Menstrual Cycle Tracking
Support
Sports Features
Smart Recognition
Smart Recognition of Outdoor Running, Treadmill, and Walking
Available Run Profiles
GPS-Based Distance, Time and Pace, Customize Activity Goal, Real-time Steps, Avg Speed, Avg Pace, Min Heart Rate, Max Heart Rate, Avg Heart Rate, Calories, Heart Rate Range(Warm-up, Weight reduction, Endurance, Anaerobic, Extreme), Activity History on Watch
Running & Walking
Outdoor running, Treadmill, Walking, Indoor walking
Cycling
Outdoor cycling, Indoor cycling, Mountain cycling, BMX
Indoor sports
Mixed aerobics, Strength, Stretching, Stair climbing, Indoor fitness, Yoga, Elliptical, Power, Flexibility, Stepper, Step Training, Gymnastics, Freestyle, Core training, Stair climbing, Dumbbell, Free exercise, Barbell, Pilates, HIIT, Cross training, Physical training, Weightlifting, Deadlift, Burpee, Sit-ups, Functional training, Hula hoop
Outdoor workouts
Hunting, Fishing, Skateboarding, Sailing, Rock climbing, Rock climbing, Paddleboarding, Kayaking
Dance
Ballet, Square dancing, Zumba, Belly dance, Street dance, Ballroom, Dance, Folk dance, Jazz dance, Latin dance
Combat sports
Fencing, Boxing, Tai chi, Karate, Judo, Wrestling, Muay Thai, Taekwondo, Martial arts, Kickboxing
Ball sports
Cricket, Basketball, Badminton, Baseball, Bowling, Squash, Softball, Croquet, Volleyball, Table tennis, Handball, Soccer, Wall ball, American football, Hockey, Tennis, Billiards, Ice hockey
Winter sports
Curling, Outdoor skating, Indoor skating, Skiing, Snowboarding, Double board skiing, Alpine skiing, Cross-country skiing
Other Sports
Archery, Equestrian sports, Jump rope, Darts, Frisbee, Kite flying, Tug of war, Shuttlecock, Kabaddi
Lifestyle Features
Smartphone Assistance
Bluetooth Phone Calls, Controls Smartphone Music and Camera, Phone Call Notifications, SMS Notifications, App Notifications, Find My Phone
Timing
Time/Date, GPS Time Sync, Automatic Daylight Saving Time, Stopwatch, Timer, Alarm Clock
Daily Life
Weather Sync(Check the weather in the next four days), Raise to Wake, Sedentary alert, Drink Water Reminder, Medication Reminder, Events Reminder
Modes
Power Saving Modes, Do Not Disturb Modes, AOD Modes, Screen Locked Modes, Slient Modes
Application
Supported Devices
Android 4.4 or iOS 8.2 and above
Review & Share Your Activity
Sync Workout Data to Apple Health & Strava
Watch Faces
Zeblaze Fit APP Download
150+
Customize Watch Faces
Support
Package Spec
Package Size
162 x 95 x 35 mm
Durability
Operating Temperature
From 0° to 45°C. Temperatures below 0°C may affect battery life and performance.